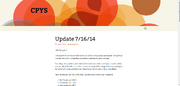 The CPYS Blog is the official blog of CPYSv2 that is written by Hucci. It is updated for some time, and informs the players on upcoming features and events that will be released in CPYSv2 It can be accessed on the CPYS Homepage. Users are also given the ability to comment on blog entries.
Custom Items
Edit
There are many custom item IDs that were announced in the blog entries so that the players can use it for their penguins.
Sneak Peeks from upcoming parties and events are being announced here.
The blog is updated sometimes, but it was announced that there will be a blog entry every Wednesday.
External links
Edit
Ad blocker interference detected!
Wikia is a free-to-use site that makes money from advertising. We have a modified experience for viewers using ad blockers

Wikia is not accessible if you've made further modifications. Remove the custom ad blocker rule(s) and the page will load as expected.